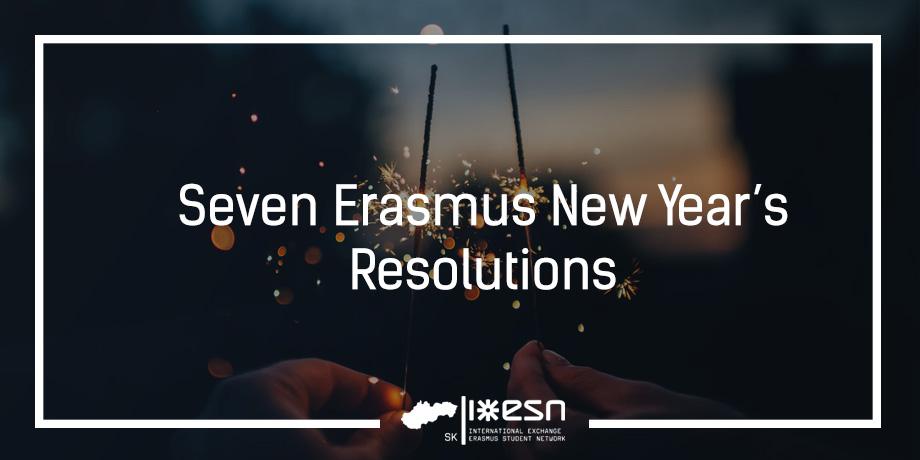 Seven Erasmus+ New Year's Resolutions
Maybe this year will be yours, maybe this year will be the time of your life, maybe this year you are going on Erasmus? There are several types of people when it comes to exchange programmes. Some cannot wait for the D day; when they grab their suitcase and get out of their hometown eager to go on an adventure. Others are looking forward to experiencing something different (the calmer ones); to see new places and taste new cultures. Erasmus is also a time for travelling and having fun, not only studying… And lastly, we come to the group of students who actually do not really want to go but meh, there is such an opportunity, so let's give it a try. 
Have you ever thought about how such an experience can change your point of view on the world or what can you experience and achieve along a half year spent abroad? Be brave and let these seven challenges, or New Year's Resolutions - call it what you want - come true.
1. International friends
During the exchange programme you have an amazing opportunity to meet people from all over the world, take the chance and make new friends for life. Excuses such as "I am not going to meet them afterwards" do not count in the time of travelling and cheap flight tickets. Besides, it makes you even more interested in going to countries where they live, to see the places, to reunite with them, and honestly, there is no better tour guide than a local.
2. Adventure is around the corner
And that is what you understand when you are abroad. It does not mean you have to travel miles to find a proper adventure. It is hiding also in your hometown, in your country. When you come back, think about it and start exploring your country as well. What if your friends come to visit you and you would not know where to take them?
3. Independence
You can forget your mom is coming with her kitchen to cook for you every day. You are there on your own, so you can imagine this experience will help you with all your skills. You will be coming home as a whole new you.
4. New perspective
Have you ever heard that every person brings something to your life? That new experience and people can change you for better if you want and if you let them? That is also part of Erasmus. Seeing new perspectives from different angles. If you are in a situation like this, you are basically a stranger in a city new to you, maybe you will understand better how some people in your country must feel like.
5. Knowledge
I am a person that has never been good at history, to be honest, but being in Germany, walking down the streets, visiting historical sights and museums showed me the history in a way that impressed me. Now I can say that every place I have ever visited has a story to tell, you only need to listen and keep your mind open, so the information flow does not get lost but stays.
6. Shiny CV
It is wonderful to have a point of studies abroad in your CV. I can tell you that this is the point interviewers are most interested in and they keep asking questions about it. So, once you are back, do a little research, where you can go next, whether it will be another study programme, or perhaps you want to go for an internship this time.
7. Students helping students
Have you met on your Erasmus people willing to help you whenever needed? These people may have been young volunteers who like to fulfil their free time in a meaningful way. Do you want to be like them? Do you want your Erasmus not to end once you are back home? Then join the Erasmus Student Network (ESN) and stay in touch with international people.
 
Submitted by
Miriama Butková
on 31/12/2018 - 16:39.