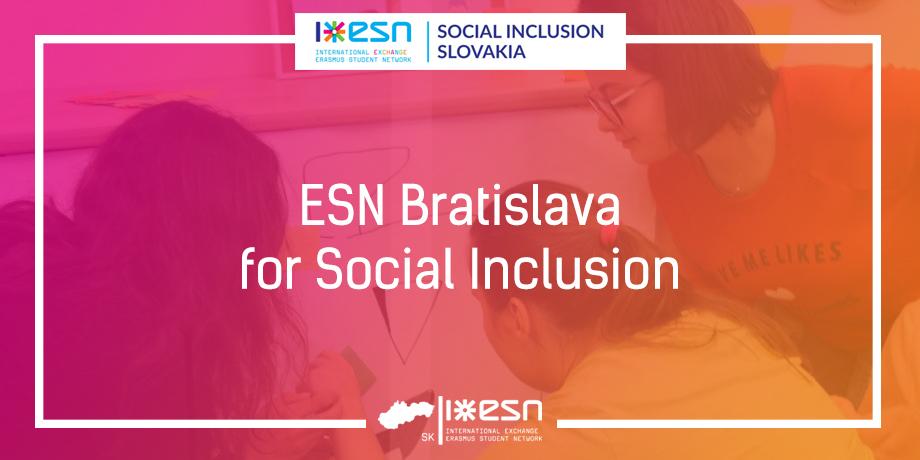 ESN Bratislava works for SOCIAL INCLUSION in Slovakia
ESN Causes
Do you know something about Social Inclusion and why it is a part of every ESN section's activities? Do you know there are 6 Causes of ESN and that we implement them in our events? 

If you answered "no" - you are the right person to read the article. When you are done you will be able to answer the questions easily!
We as ESN volunteers really do our best to make the stay unforgettable for our Erasmus students. We prepare a variety of events; however, when we start thinking about a new one, we have to answer a few questions:
What can we do to make our event successful?
What impact will our event have on Erasmus students and on the local community?
The answer are the Causes of ESN:
Culture

Education & Youth

Environmental Sustainability
Health & Well-being

Skills & Employability

Social Inclusion
While it is not possible for most of the events to be assigned to a single cause, it is a good thing, too - in the end, Causes are are a translation of our mission, vision, and values into our everyday activities, not just categories of what we do.
The sections of ESN Bratislava - ESN STUBA, ESN Comenius University and ESN EU Bratislava chose to organize an event mostly within the Social Inclusion Cause, simultaneously educating and improving the skills of international students, turning their attention to health and well-being.
ESN Bratislava works for Social Inclusion
This event was called Morning on Wheels with ESN Bratislava. We visited DSS Integra, a social centre for people with disabilities, and we organized this event in cooperation with INEX Slovakia that joined us with their EVS volunteers.  
The topic of our meeting was Halloween. Together with the people living in the centre we played games, took pictures and even had a little disco party! All of it matched the Halloween mood. It was an amazing experience, leaving us in a good mood for the rest of the day. The people we met were full of joy and they were excited to spend time with us, at least as much as we were.
All we needed for this event was our creativity and good mood - so this event was totally accessible for everyone! These events are for free, open for all the international students and volunteers, as well as for the local community. Moreover, fun is always guaranteed!
The proof that activities focused on Social Inclusion have an impact are the Erasmus students themselves: at the end of this Halloween fun there were even some tears in their eyes and they were grateful for the opportunity to meet the centre's inhabitants.
Caring about people around you, making friends with those who are different from you and education yourself about conditions that people live in (or with) - these are all the lessons that we left the centre with.
Events like this definitely leave their mark on us - and that way we learn how to make the change and be the change ourselves.
Author: Monika, ESN EU Bratislava
Photo: INEX Slovakia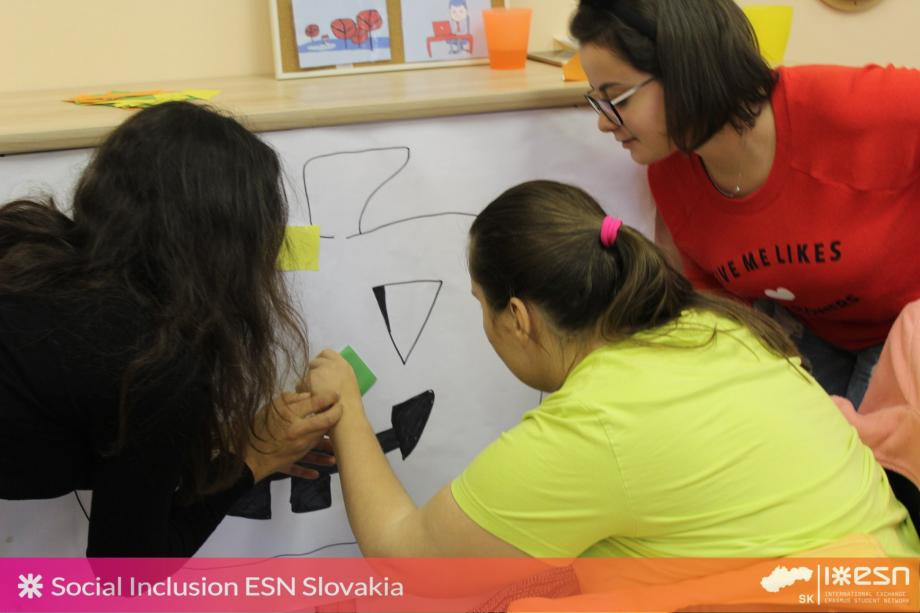 Submitted by
Eva Vargová
on 26/02/2019 - 21:02.