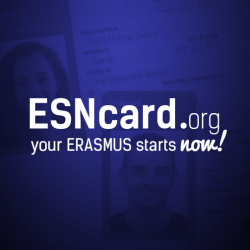 The ESNcard is the membership card of the Erasmus Student Network. It is a proof of membership in an ESN section and so indirectly of the ESN Network. To learn more visit website http://esncard.org/
The ESNcard is also used as a discount card in many cities and countries around Europe. Please visit the partner page of the website of your ESN local section or Partners page of ESN Slovakia.
The ESNcard is valid for 12 months and only valid with a photo and correct personal data. The card is strictly personal and cannot be used by somebody else than the card holder.
The ESNcard
The ESNcard is the membership card of ESN which means that you can access to all the services offered by the ESN and our partners.
With the ESNcard, you will enjoy thousands of discounts (housing, sport, food, bars, etc.) all over Europe. Moreover, you will have the opportunity to participate in thousands of events (trips, cultural events, sports activities and parties) all year long.
The aim of the ESNcard is to support and give opportunities to international students during and after their exchange.
Who uses the ESNcard?
The ESNcard is used by over 140.000 people per year in 40 countries, and the numbers are growing every year.
You can get the ESNcard, if you belong to one of the following groups:
You are currently a student or intern on a mobility programme.
You are a student volunteering in ESN.
How can you get the ESNcard?
The ESNcard is distributed in almost all the countries where ESN is present by the ESN sections, which are non-profit student organisations.
In Slovakia you can get your ESNcard from your local section. 
ESNcard design
All the ESNcards look the same on the front. The back was redesigned in 2010 to make it easier to incorporate logos of brand partners.
More information: 
Search for discounts on ESNcard.org