Section Board:
President: Lukáš Varholík
Vice-president: Róbert Vavrek
Local Representative: Marianna Rudinská
PR: Natália Uramová
Cultural activities coordinator: Terézia Kulíková
Sport activities coordinator & buddy manager: Lukáš Varholík
SE & EA coordinator: Timea Krauszová
Webmaster: Ján Karchňák
ESNcards coordinator & Partnership manager: Peter Matik
Description of the Section:
 
The character of our section is rather special. We were established for the purpose of Pavol Jozef Šafárik University. Moreover, we cooperate with two other universities in the city and take care of their Erasmus students; therefore, we have to be organized quite well. Difficulties in managing the section are relieved in connecting Erasmus students thus sharing ESN spirit among them.
 
History of the Section:
 
To trace the beginning of ESN UPJŠ Košice we do not have to go far back in time, only to 2009. Founders of the section, Norbert Ostro and Mária Juraševská, have done the most difficult job negotiating with universities and becoming salient; however, much work is still to be done in order to be fully efficient.
Name of the Universities:
Pavol Jozef Šafárik University in Košice
The University of Veterinary Medicine and Pharmacy in Košice
The Technical University of Kosice.
Description of the Universities:
Pavol Jozef Šafárik University in Košice
 
Pavol Jozef Šafárik University in Košice belongs to accomplished institutions of education and science not only in Slovakia but also in Europe. At present the University has five faculties – Faculty of Medicine, Faculty of Science, Faculty of Law, Faculty of Public Administration and Faculty of Arts – which prepare physicians and dentists, experts in natural sciences, mathematics and informatics, teachers, lawyers, specialists for public administration and specialists for psychology, philosophy and theory of communication. The graduates of our University which is the second oldest in Slovakia, have a very good reputation all over the world.
The University of Veterinary Medicine and Pharmacy in Košice
 
The University of Veterinary Medicine and Pharmacy in Košice is the only institution in the Slovak Republic offering higher education in the veterinary field. It has been providing the veterinary education in English for 15 years. Nowadays the University offers two English study programmes: 6-year degree programme for secondary-school graduates and 4-year degree post-BSc. programme for bachelors in agricultural, veterinary or biological sciences, both leading to the degree of Doctor of Veterinary Medicine (DVM).
The Technical University of Kosice.
 
The Technical University of Košice was founded in 1952, but its roots must be sought much deeper in the past to as early as 1657 the Universitas Cassoviensis was established in Košice. In 1991, the College was renamed to the Technical University of Košice. Today it has nine faculties, Faculty of Heavy Engineering, Faculty of Mining, Faculty of Metallurgy, Faculty of Electrical Engineering, Faculty of Civil Engineering, Faculty of Professional Studies, Faculty of Manufacturing Technologies, Faculty of Economics, Faculty of Arts and The Faculty of Aeronautics.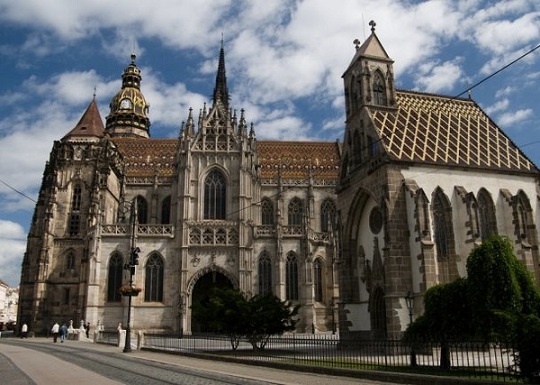 Something about the City:
Košice is the city where east meets west and future overlaps past. City offers interesting mix of culture and history. In spite of the fact of being the second biggest city in Slovakia, Košice is cosy and unique city with its history reaching up to 13th century, when the city was entitled to use the coat of arms. Reach and famous past left magnificent treasure for inhabitants of the city. Historical centre is the largest town reserve in Slovakia. It offers many legends and stories that are kept in every historical building. The gem of the city is the St. Elisabeth's Cathedral from the 14th century; it is the easternmost gothic cathedral in Europe and the biggest cathedral in Slovakia. Along with the Urban's Tower, St. Michael's Chapel, State Theatre, Singing fountain and glockenspiel, Jacob's Palace, churches and museums creates the special historical atmosphere. This historical atmosphere is combined with the interesting cultural and sport events such as The days of Košice, Košice music spring festival, the oldest European Peace Marathon or the hockey matches. City offers also pleasant surroundings such as ZOO, Lookout Tower, the natural leisure areas such as Alpinka, Anička and Bankov. Broader surroundings present many caves, castles or famous wine area – Tokaj. The city is also known for its multi-ethnic and young population, thanks to the universities. Home and foreigner students create the peculiar atmosphere full of the parties and social events which keep city alive day and night. Famous discos organise special student parties, or small and cosy pubs and restaurants offer pleasant time while enjoying the special drinks, coffee, beer or traditional Slovak meals.
Interesting Projects and Events:
Welcome week
Integration Weekend
Trip to Krakow and Budapest
Erasmus meets Slovakia
Contact: