Section Board: 
President Jakub Osvald
Vice-president Ivana Stašková
Local Representative Emil Šulc
PR Manager Michaela Hollá
Activity coordinator Mária Dzurjaninová
SocialErasmus coordinators Katarína Liptáková
Buddy coordinator Katarína Tináková

Description of Section: 
A young section, one of the 6 section in Bratislava. We are low in number but high in spirit. We rely on cooperation with ESN Bratislava working group and we have established a careful approach to our international students at once. This politics enables us to contribute to the life of our fellow exchange students and also to the good image of ESN in Bratislava. We are running a small-scale buddy system for our 20 incoming students (stats 2011/2012). It covers 5 faculties of the Pan European University. We are keen on organizing common events for ESN Bratislava.
History of Section:
Admitted to the ESN network on National Platform Nitra 2011.
Our members attened:
CEP in Krakow 2011, in Košice in 2012,
CND Siena 2011,
ESN Czechoslovakia Platform in 2014,
AGM in Maribor 2013, in Milano 2014,
NEP in Stockholm in 2014
and many other National Platforms, Sections presidents meeting of Slovakia or other countries 
Name of the University: 
PanEuropean University in Bratislava
Description of the University: 
Pan European University was founded in 2004 in Bratislava, under the name of Bratislava School of Law, with only one faculty - the law faculty. It developed very quickly, moved to new premises with better equipment. The NGOs started to dwell here and the student life became organized and remarkable. Soon, the school added new faculties, the Masmedia, Economy and Business, Informatics and the newborn faculty of Psychology. With the number of faculties amounting to 5, the school had transformed into the Pan European University and continues to excel in the field of Slovak private schools.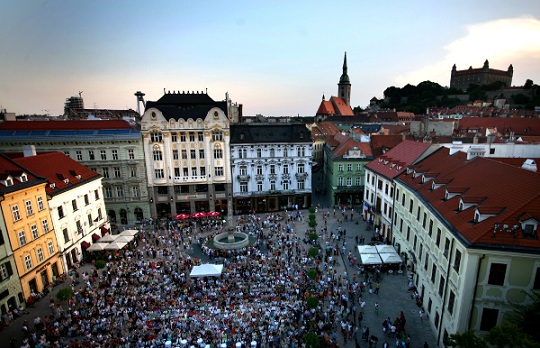 Something about City: 
Bratislava is the notoriously famous capital of Slovakia. It is famous for its bad service, high prices and good geographical location. If we go a little bit further and break the field of traditional prejudices, we will find honest slavic people with heartly approach, growing international community and clubs that you have dreamt of all your student life. Welcome to the jungle!
Intersting projects or events: 
Anticipated projects("under construction"): Platform 25, 
Survival Weekend, 
Trips to Vienna, Brno, Prague, Budapest and beyond.
Contact:
WEB: peu.esn.sk